Michael Weiner Sports Lawyers Association Award of Excellence
2019 Recipient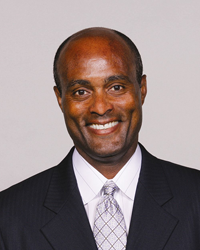 Ray Anderson was named Arizona State University's Vice President for University Athletics and Athletics Director on Jan. 9, 2014, and has quickly redefined the collegiate athletics landscape over the course of his tenure at ASU.
Anderson was named by Forbes Magazine as one of the 25 Most Influential Minorities in Sports in February 2016, noting that he had "helped position the Sun Devils as one of the most innovative brands in college sports." He received an extension in the spring of 2018 through 2022.
Highly influential in the world of collegiate athletics, Anderson is a board member of the National Football Foundation's College Football Hall of Fame, a member of the NCAA Football Oversight Committee, Chair of the new Ad Hoc NCAA Competition Committee, and most recently the Green Sports Alliance Advisory Board. Anderson was also one of a group of minority athletics directors to meet with NCAA President Mark Emmert and NCAA Leadership at the 2016 College Football Playoffs in Phoenix and encouraged the creation of a collegiate "Rooney Rule" to encourage diversity and inclusion in the hiring of athletics leadership. The initiative led the NCAA Board of Governors to create a pledge for university chancellors, presidents and conference commissioners to publicly express their support for diversity and inclusion efforts within intercollegiate athletics.
While national trends lean toward downsizing athletics departments and eliminating non-revenue generating sporting programs, Anderson has made it his mission to not only add NCAA Division I sports at Arizona State, but expand educational and scholarship opportunities for future Sun Devil student-athletes.
In May 2016, Sun Devil Athletics announced the reinstatement of the men's tennis program at Arizona State – an act made possible through a $1M lead gift from Anderson himself and his wife, Buffie. The donation came just a month after Sun Devil Athletics announced a strategic alliance with the Intercollegiate Tennis Association (ITA) to leverage the resources of a research-based University to grow the sport of tennis locally, nationally and globally. The ITA has since moved its headquarters from Princeton to Tempe after more than 20 years in New Jersey. Most recently, Anderson was named to the ITA Board of Directors in June of 2018.
In November 2014, Anderson announced the addition of the Men's Ice Hockey program, which was made possible through a record-setting $32 million donation, the largest in Sun Devil Athletics history. This gift provided mechanisms to fund the addition of both women's lacrosse and women's triathlon, which were both announced in the fall of 2015.
The 2016-17 academic season and four-year Academic Progress Rate under Anderson continued to demonstrate his dedication to the "student" in student-athlete. From 2013-14 through 2016-17, the department recorded a record APR of 992 – second only to Stanford in the Pac-12 -- and up again from the previous four-year stretch of 990. Meanwhile, in November, a new all-time high Graduation Success Rate (GSR) for Sun Devil Athletics was reached at 88 percent with seven programs reaching 100 percent. In each of Anderson's years at the helm, Sun Devil Athletics has surpassed its previous all-time best GSR.
Anderson has also clearly defined his expectations for Arizona State to be nationally competitive in all 26 varsity programs, and has parlayed this vision into a number of world-class head-coaching hires unseen at the collegiate level, including USA Swimming Coach Bob Bowman, a hall of famer and mentor to the world's most decorated Olympian, to head up the men and women's swimming program; Zeke Jones, USA Wrestling's National Freestyle Coach, to take over the wrestling program and lead it to back-to-back Pac-12 wrestling titles in 2017 and 2018; Bobby Hurley, one of the most decorated college basketball players in history, to coach the men's basketball program; Tracy Smith, a two-time conference coach of the year and experienced fundraiser, to revitalize the baseball program; Matt Hill, a three-time coach of the year with experience at three different Top 25 programs, to lead the reinstated men's tennis program; Matt Thurmond, the 2009 National Coach of the Year and seven-time national Top-10 finisher, to take over ASU's surging men's golf program; former assistant Missy Farr-Kaye, the eventual National Coach of the Year and golf national champion head coach for the Devils in 2017; Greg Powers, who led the ASU club hockey team to its first National Championship in 2014, to continue the growth of hockey to now a top-20 varsity program; Cliff English, USA Triathlon's Elite National Team Coach, to lead the very first Power-5 women's triathlon program which captured three-straight Women's Collegiate Triathlon National Championships during 2016-18; and Trisha Ford, who led the softball program back to the Women's College World Series in 2018 and earned Pac-12 Coach of the Year. Most recently, in December of 2017, Anderson boldly hired former NFL head coach and defensive back Herm Edwards under the new leadership model as the new head coach of Sun Devil Football, who instantly led a strong recruiting effort and then directed the team to a bowl game in the first season after national preseason scrutiny picked ASU to finish last in the Pac-12 South.
Anderson is in the midst of an athletics' facilities renaissance with the final phase of the $307 million reinvention of Sun Devil Stadium being completed, the design and construction of a new multi-purpose facility to house men's hockey, wrestling and volleyball, and planning for the renovation of Wells Fargo Arena progressing, and the University land development project known as the Athletic Facilities District or Novus Innovation Corridor activating. The Novus district is comprised of 330 acres of ASU-owned land that the University plans to lease long term to developers, while Sun Devil Athletics will receive annual payments in-lieu of property tax traditionally paid on privately owned land. Ground has broken on the Novus Innovation Corridor across from Wells Fargo Arena on the ASU campus, which will feature a six-story apartment complex, office building with retail space for shopping and restaurants, and a modern 200-plus room high-tech hotel.
Anderson, along with University officials, is leading the charge to reinvent Sun Devil Stadium into a 365-day-a-year facility and use the 55,000-plus-seat venue to generate additional revenue for ASU. The Sun Devil Stadium 365 Reinvention seeks to blend athletics, student life, and the community into an interdisciplinary facility that will have utility beyond six or seven days a year. The 365 Community Union space will provide new office homes for the Pat Tillman Foundation, Public Service Academies, and the ASU Global Sports Institute. It will also include a a satellite broadcasting studio for ASU's Walter Cronkite School of Journalism & Mass Communication. The spacious and covered main concourse will also serve as "armory" space for exercise and drilling grounds or ASU's ROTC programs.
In addition, Anderson oversaw the baseball program's celebrated move into Phoenix Municipal Stadium and capital improvements including an indoor batting facility, the men's and women's golf programs transition into their new home and state-of-the-art facility, The Thunderbird, at Papago Golf Course. Proud ASU alumnus and PGA star Phil Mickelson designed and generously contributed financially to the ambitious project.
Since his arrival, Anderson has emphasized his commitment to the Olympic movement as a university and athletic department. Through this vision, the city of Tempe hosted the 2017 Women's Triathlon National Championship and an affiliated Age Group Race, and welcomed the events yet again in 2018. On the topic of national championships, the NCAA has announced ASU and Grayhawk Golf Club in Scottsdale will host the 2020-22 NCAA Men's & Women's Golf National Championships, becoming the first university and course to host three-straight golf championships. Not to mention the return of the NCAA Final Four, hosted by Arizona State University, to Glendale in 2024. Additionally, in 2018, ASU became the new home for ASU Men's Triathlon Olympic development home through the innovative Project Podium program, which is designed to develop top young male triathletes in the United States and achieve medal performances in major international competition and, ultimately, in the Los Angeles 2028 Olympic Games. The program will enable college-aged triathletes with elite competitive potential to train in a daily high-performance environment while earning an undergraduate degree at ASU through its esteemed online program or at one of four campuses throughout Arizona.
Not only has Anderson put an emphasis on the continued development of Sun Devil Athletics facilities, but to ensure that it is being done in the most sustainable and eco-friendly way possible. As a result, the National Association of Collegiate Directors of Athletics (NACDA) and USG Corporation announced Arizona State as the winner of the 2016 USG NACDA Sustainability Award for its work on Sun Devil Stadium and basketball's Weatherup Center. The USG NACDA Sustainability Award was designed to recognize NACDA member institutions across all divisions, honoring athletics directors and their universities for incorporating sustainable practices and materials into their athletics facilities.
The 'Sun Devil Way', a mission statement that encompasses the goals of athletics at Arizona State – Sun Devils Win, Sun Devils Graduate, Sun Devils Serve, Sun Devils are for Life, and Sun Devils compete with Passion and Character - has served as the template for Anderson's leadership philosophy. He has placed a strong emphasis on student-athlete development with a number of unique and creative initiatives, including the creation of the Senior Championship Life Experience program. These on-campus cultural experiences launched with a special showing of the play 'Black Angels Over Tuskegee' in January 2016, the documentary 'Last Gold' following the 2016 Rio Olympic games, and most recently a special showing of the 16-time Tony Award winning play, Hamilton, in 2018 at ASU Gammage auditorium.
Positioning Sun Devil Athletics as a community asset has stayed at the front of Anderson's strategic plan and he has led a number of unprecedented community initiatives, including the creation of the Honor Row for military veterans at a number of Sun Devil facilities. With 100 percent participation in community service by Sun Devil student-athletes, coaches and staff in 2018, Sun Devil Athletics helped to serve 300,138 community members over 7,569.50 hours – both all-time highs for the department and the first time ever serving over 300,000. Sun Devils Serve projects have taken place across several states, including Arizona, California, Nevada and Louisiana, as well as three Native American Nations (Colorado River Indiana Tribe, Gila River Indian Tribe, and Havasupai Tribe). Understanding the importance of building fan affinity, Anderson created the Sun Devil Caravan when he arrived in Tempe to reward Sun Devil Nation's loyalty and enthusiasm. The caravan brings the Sun Devil Athletics experience directly to the fans and allows Sun Devil Nation to connect one-on-one with coaches, student-athletes, and administrators.
Anderson has implemented an innovative business model at Arizona State to foster growth and to create sustainable revenue sources for Sun Devil Athletics. Less than a year into his tenure, Anderson negotiated an industry-leading apparel partnership with adidas in December of 2014. The eight-year, $38M agreement not only set provisions for wholesale apparel, but adidas also provided additional funding for marketing, facility improvements, marching band and spirit squad apparel, as well as for ASU's numerous club sports teams. Anderson also strategically eliminated third-party partnerships and aligned Sun Devil Athletics' ticketing and multimedia rights with the Pac-12 Sales Co., becoming the first member school to partner with the conference to bring sponsorships and licensing in-house.
Prior to his time at Arizona State, Anderson was making his impact felt with the NFL as executive vice president of football operations since August 2006, and previously as the executive vice president and chief administrative officer of the Atlanta Falcons for four years. During the week of Super Boxl XLIX in 2015, he was presented with both the Paul J. Tagliabue Award and John Wooten Lifetime Achievement Award for his outstanding leadership with a desire to improving his community.
A Los Angeles, California native, Anderson earned a BA in political science from Stanford in 1976 and a Juris Doctorate from Harvard Law School in 1979. He was an all-league high school quarterback and shortstop, and a three-year football letterman and two-year baseball letterman at Stanford.
Anderson co-founded the sports law practice at Heller, Ehrman, a prominent San Francisco firm, in 1980 and entered the sports agency business in 1984 when he opened the West Coast office for Sports Advisors Group. In 1987, he launched his own agency, AR Sports, specializing in the representation of NFL coaches and players and later adding Major League Baseball players. Anderson merged his agency with Octagon in 2001.
As an indication of the high regard in which Anderson is held, in 2002, he was appointed to the NFL Committee on Workplace Diversity and was named to Sports Illustrated's list of the "101 Most Influential Minorities in Sports." He was also named to the prestigious "100 Black Men of Atlanta, Inc.", a group dedicated to providing support and improving the quality of life for African-Americans, and to the Board of Governors of the Georgia World Congress Center Authority.
In April 2014, it was announced that Anderson would be a professor of practice in ASU's new sports law and business program, a collaboration of the highly ranked Sandra Day O'Connor College of Law and W. P. Carey School of Business.
He and his wife, Buffie, have one son, Bryant, and one daughter, Kimberly.
Previous Award Recipients